Here and Now 365 Takes on NDTV's Indian of the Year
The epic 'selfie' taken by Ranbir Kapoor (Bollywood actor) along with other Bollywood superstars and industry titans such as Aamir Khan and Deepika Padukone.
On Tuesday, April 29, Manish Tiwari, Here and Now 365 MD, attended NDTV's Indian of the Year. The awards honoured the who's who in business, politics, entertainment and sport.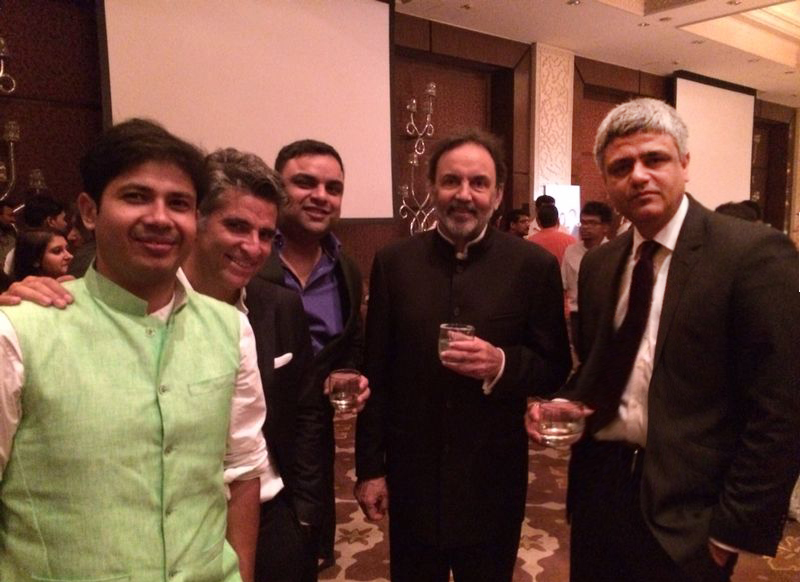 Our MD, Manish Tiwari, with Prannoy Roy and his team.
Make no mistake, India voted this year. In the largest democratic election the world has ever seen, NDTV recognised the feat, naming the Election Commission Indian of the Year.
Roshni Nadar, Executive Director and CEO of HCL Corporation, was honoured with accolade of Philanthropist of the Year while P V Sindhu, the young badminton player, received the honour of Sportsperson of the Year for her contributions to the sport.
Hot on the heels of her IIFA awards win for Best Actress and Entertainer of the Year in Florida, Deepika Padukone was named Entertainer of the Year: "Am very nervous about being billed Bollywood's Golden Girl, the award matters most to me…Kevin Spacey is so graceful in a lungi," Padukone gushed about the Hollywood actor who joined her on-stage for a dance sequence.
Other winners included Ranbir Kapoor for Bollywood Youth Icon—the fourth generation Bollywood superstar received the honor for his work in Rockstar, Barfi! and Yeh Jawani Hai Deewani. Receiving the award from Aamir Khan, Kapoor also praised NDTV saying, "Aamir Khan is a superstar, Dr (Prannoy) Roy is a superstar."
Kangana Ranaut won Actor of the Year; "It's really flattering to be here and receive (sic) this award. I was told Aamir [Khan] was going to present me this award so I had to be here. He has been a huge inspiration and this is a very special evening." Khan returned the admiration by saying, "Kangana goes with her heart. Not many people are able to do what she did."
In the grand tradition of the Oscars, the evening was not complete without a star-studded selfie. Ranbir Kapoor took the photo which included Deepika Padukone, Kangana Ranaut, Soundarya Rajinikanth, Aamir Khan and NDTV's Prannoy Roy, Vikram Chandra and Nidhi Razdan.
Full list of award winners:
Life Achievement Award winners – Satish Gujral and Ustad Amjad Ali Khan
Young Philanthropist of the Year – Roshni Nadar
LIC Unsung Hero of the Year – Laxmi
Indian of the Year Business – Rajiv Bajaj
Award For Public Service – PRS Legislative Research and Association for Democratic Reforms
Sportsperson of the Year – P V Sindhu
Technical Innovation in Films – Soundarya R Ashwin
Entertainer of the Year – Deepika Padukone
Actor of the Year – Kangana Ranaut
Bollywood Youth Icon – Ranbir Kapoor
Indian of the Year – Election Commission