'Let's Take a Selfie'
You've either seen it happen, been tempted to take one or have taken one or a number of them. It's just something you can't avoid – 'Selfies' love them or hate them they are here to stay and in November 2013, this was made official when the Oxford English Dictionary announced that the word 'selfie' was the 'word of the year!'
NOUN (plural selfies) – informal
 A photograph that one has taken of oneself, typically one taken with a smartphone or webcam and uploaded to a social media website.
It's simple, let's show you how…
Start off in any angle, usually the angle that is most flattering to you and make sure the lighting is just right (adjust yourself if need be). Select the right pose 'duck face,' 'raised eyebrow face' or generally a pose of your preference, make sure your chin is down, as you don't want a nostril shot and then…SNAP!
Add a filter (if need be) and then one click and it's uploaded on your Facebook, Twitter, Instagram or any other social network. Now just sit back and watch the likes, retweets, share and comments fill your page as you feel calm, reassurance, love, comfort? Whatever it is for you, it sure is addictive and growing in popularity.
Whether you are a pop star like Justin Bieber taking topless pictures for his millions of adolescent female fans, a reality star like Kim Kardashian showcasing her luxurious lifestyle or a movie star like Deepika Padukone, celebrities are snapping away.
Source: NDTV
Even the political classes have started. One of the most famous selfies from 2013 was taken of U.S. President Barack Obama and British Prime Minister David Cameron by Denmark's Prime Minister Helle Thorning Schmidt at Nelson Mandela's memorial (pictured below). Even the social media shy, Prime Ministerial candidate Narendra Modi took to his Twitter page to show that he had inked his vote. Modi may very well get in trouble with the electoral commission as any canvassing during an election day is strictly forbidden but hype around taking a selfie is clearly evident.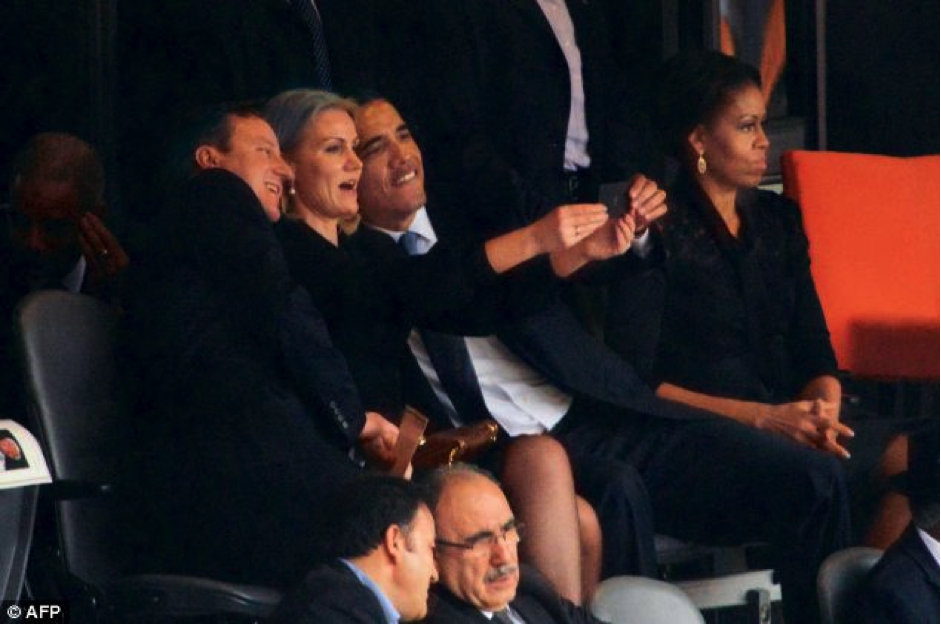 One of the most famous selfies from 2013 was taken of U.S. President Barack Obama (right) and British Prime Minister David Cameron by Denmark's Prime Minister Helle Thorning Schmidt (centre) at Nelson Mandela's memorial, pictured.
The trend has even reached outer space as Japanese astronaut Aki Hoshide took what might be the greatest selfie of all time at the International Space Station. The resulting image encompassed the sun, the Earth, two portions of a robotic.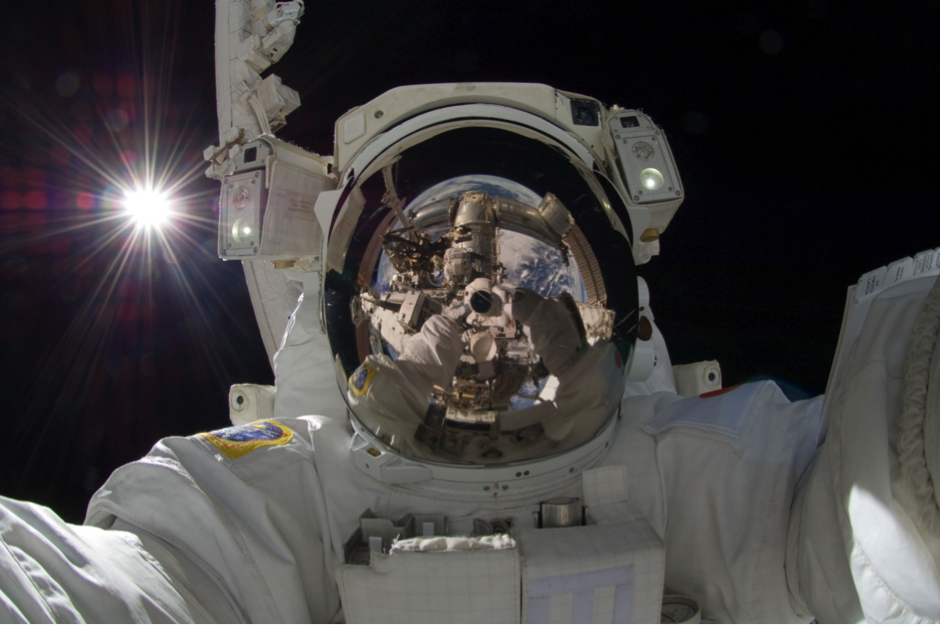 Source: Aki Hoshide Tumblr 
Gone have those days when you needed to run to a pharmacist to get your photos printed as the digital camera has led to experimentation, as we can now delete and recapture hundreds of photos every day. The selfie has revolutionised the way we gather autobiographical information about ourselves, as we are able to continuously rewrite ourselves and present the image we want to show the world but the jury is still out whether it's about capturing key moments of your life or if it has become the ultimate symbol of the narcissist age?
A selfie can, in some respects, be a more authentic representation of beauty than other media images. For celebrities it has enabled them to communicate directly with their fans and build a loyal following as people can peak through the windows of their idols and gain a glimpse into the lives of the wealthy and elite.
One of the possible side-effects has been explained by the American writer, John Paul Titlow who describes selfie-sharing as "a high school popularity contest on digital steroids" and the notion that we care more than ever before about how we appear and, as a consequence, social acceptance comes only when the outside world accepts the way we look, rather than endorsing the work we do or the way we behave off-camera. Also the growing number of younger women posing selfies in a state of undress is also reaching a very worrying level.
In any respect the selfie comes from the notion of 'control' that we as the capturer can take a picture in the way we want rather than rely on someone else to capture you the way you want to be.
But as the Guardian, summarises perfectly, 'the notion of control is disingenuous: once a selfie is posted online, it is out there for public delectation.' You may have control over how you manipulate your own images but once it's online, you can never have control of how other people see you.
As team we look forward to seeing how the selfie story unfolds.