Lord Noon – one of Britain's most inspirational leaders passes away at 79
UK's "Curry King" and one of the most inspirational entrepreneurs Lord Gulam Noon died yesterday after a prolonged battle with cancer.
Lord Gulam Noon was the epitome of everything a first generation immigrant can achieve. He came to London with £50 in his pocket and set up an Indian sweet shop in Southall and from there built a £200 million empire on Indian food – Noon Products. Keeping his Indian roots alive, he integrated into the British society and was grateful to the UK for giving him the life chances that made him an extraordinary role model.
Rightly known as Britain's first Curry King, he brought curry to the high street. There are thousands of people in Britain, in India and throughout the world who have benefited from his enterprise, jobs he created, and his big heart.
Paying condolences to the South Asian community's greatest star, Here and Now 365's Managing Director Manish Tiwari who worked closely with him said: "Lord Ghulam Noon was a stalwart, an inspiration not only to the British Asian community but the British society as a whole. I had the good fortune of meeting him several times and working with him. The humility and grace in which he conducted himself left a lasting impression. His passion for his work and business acumen made him the face of the South Asian community. He was devoted to getting those of different religious faiths working together and was a wonderful role model in the Muslim community. A humble, down to earth, honourable and generous man, who was dedicated to his family, work and country. He will be deeply mourned."
The funeral will take place in London today and there will be a minute's silence at the Tiffin Cup final to pick the UK's favourite curry restaurant at the House of Commons on Tuesday evening. A memorial meeting will be held in Parliament on November 2.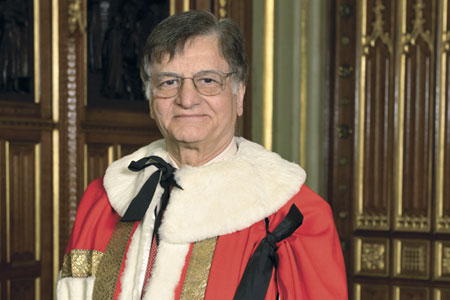 The Life and Times of Lord Gulam Noon
Lord Noon's career revealed that he was a classic candidate for elevation to the House of Lords, where he took his place in 2011, after being nominated by Labour leader Ed Miliband.
Gulam Kaderbhoy Noon was born in Mumbai on January 4, 1936 into a Muslim family, in a single-room house on Mumbai's crowded Mohammed Ali Road and lived in it along with eight others. His father, who ran a sweet shop, died when Lord Noon was only seven years of age. He began working behind the counter after school and as he developed a taste for commerce, he became convinced he could run the operation better than his family members.
When he was 17 he took over the business and soon began to expand its market beyond its mainly Muslim clientèle by taking the Muslim name off the shop and calling it Royal Sweets. Within ten years he had built up the business to the point where the firm was big enough to export.
In 1964 he made his first trip to London and fell in love with the place. He returned in 1972 and set up a sweet shop in Southall just as the market for Indian sweets was boosted by the arrival of thousands of Indian immigrants from Uganda. He created "Bombay mix" and founded a confectionery company, Bombay Halwa. In 1985, after sampling Britain's bland supermarket curries, he realised there was a market for the real thing and in 1988 he founded Noon Products, with 11 people in a small factory in Southall. A year later he got his first order from Birds Eye and took on a further 70 employees. A few months later he got an order from Sainsbury's for 2,000 meals a week.
Within 14 years Noon's workforce in Southall had grown to 800 people and by 2006 Noon's ultra-modern factory, the largest in the world for ready-made Indian food, was processing 80 tonnes of chicken a week to turn out meals for supermarkets including Sainsbury's, Waitrose and Morrison's, as well as its own label. Noon was credited with making chicken tikka masala Britain's favourite dish.
Lord Noon diversified into other areas – construction, luxury cruise liners, dietary supplements and aviation catering – and served on business and charitable boards including Transport for London, the Prince's Trust, Care International, Cancer Research UK, a trust for the education of girls in rural India and a Jewish-Muslim interfaith organisation. In 1995, with £4 million of his own money, he set up the Noon Foundation, a charitable trust to assist education and health projects. He also served as president of the London Chamber of Commerce.
A keen member of the Surrey County Cricket Club, Noon was a dedicated supporter of the English team, except when they played India and in his office he proudly displayed 30 autographed bats.
In November 2008 he was trapped in the Taj Hotel in Mumbai when the hotel was attacked by terrorists. He escaped and the first person to dial his mobile phone was the Prime Minister Gordon Brown. In 2009 he published his memoirs, Noon, with a View: Courage and Integrity.
Lord Noon was appointed MBE in 1996, knighted in 2002 and appointed to a life peerage in 2011.

In 1998 he married Mohini Kent, who survives him with two daughters from the earlier marriage Zeenat and Zarmin.
Lord Noon, born January 4 1936, died October 27 2015