Celebrating Vaisakhi on the Square
Thousands of people turned up to celebrate Vaisakhi (Sikh New Year) at Trafalgar Square on Sunday May 4 and soak in the Punjabi spirit.
Revellers flocked the stalls selling Punjabi specialities as they regaled performances of traditional and modern South Asian music and dance and DJs from Sunrise Radio including UK Asian Music Awards newcomer award winner H-Dhami, R&B artist Jay Sean and vocalist Alyssia.
Along with the food and music, there were scores of stalls with ethnic retailers educating the masses about their products with a few interesting freebies and activities like face painting and turban dressing.
Making the most of the sunny day and the enthusiasm present in the crowd, Here and Now 365 were on a mission to educate the South Asians present on how they could send money to their loved ones back home through Moneygram – the cheapest, easiest and most reliable money transfer service agency.
The Moneygram stall had a little for everyone in the family – while the branded balloons excited the kids, the parents were advised about the financial services available. The unique branded cricket bat and Indian flag key chains also proved to be quite a hit with the customers who got a taste of Indian symbolism.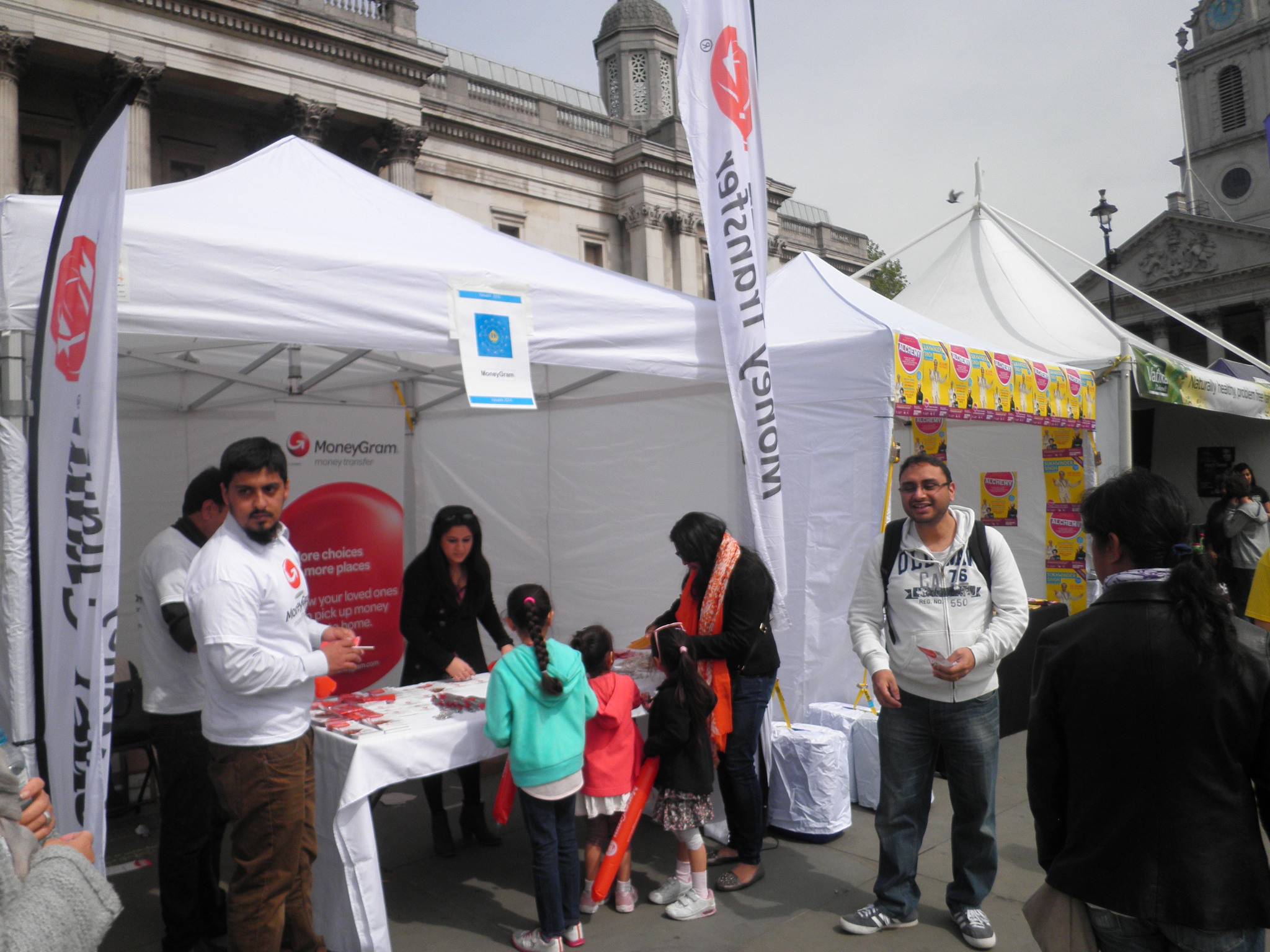 Vaisakhi on the Square proved once again that not only is it a great place to get a taste of authentic Punjabi culture and gusto but also a great way to reach out to the community and celebrate with them.
With performances from Sony Entertainment Television, the event was organised by the Greater London Authority in association with the Vaisakhi in London Committee. The Committee's Chair, Manjit Singh Buttar JP said the ceremony was important "for all Sikhs around the world and promotes friendship, mutual respect and peace along with the core values of equality, diversity and tolerance for all, which are vital for a multicultural city like London."
In true Punjabi style it was a day filled with bhangra, the aroma of chole bhature and other local delicacies along with loads of fun and frolic.
Here and Now 365 has always prided itself for promoting multiculturalism and celebrating the ethnic diversity of the UK.