Redefining social diversity and Multiculturalism
Conclusions after a half century of multiculturalism
By Matei Rosca
"The greatest failing of multiculturalism, is not that it has failed to create a sense of belonging among minorities, it is that the multicultural project has paid too little attention to how to sustain support among the white population." – Alan Manning, LSE Economics
As 50 odd years of building a multicultural society based on the values of liberal democracy passed, there are voices in the UK stating that multiculturalism doesn't work and social integration is not possible, which means that it all went wrong somewhere between the British Empire's invasion of the world and the official acknowledgement of multiculturalism at some point in the fifties (or sixties? eighties?) when scores of people from the far corners of 'the commonwealth' started coming in.
Indeed; the title of this piece doesn't tell the whole truth: Multicultural society has started not when the first legal policies were shyly implemented in the seventies, and ended not when a concededly acting primary political figure declared outright that "multiculturalism has failed" in 2011. Perhaps it is not the society that failed, but the wrong definition of the concept that migrants can preserve their national identities, customs, tongues and communities without support and encouragement from the indigenous population and powers that be. Immigrants in the UK were expected to fully adapt to the British lifestyle and mentality – whatever might it be, on their own accord and by their own efforts. The white population, in the meanwhile, has apparently grown immune to the government's attempts at promoting 'tolerance'.
On the one hand, the browns, blacks, yellows and reds need to 'adapt', while on the other hand, the whites need to 'tolerate' – or at least that's how the doctrine goes. Well, perhaps the failure is right there. Perhaps the beauty of communities of starkly different backgrounds living in the same city lies in the society they create together themselves, the lessons they learn from one another, the friendships that form, the businesses that flourish and so on. The symbioses, as it were, regardless of the differences on the surface. Once you take politics out of it, you are left with just people, and from people's point of view, maybe multiculturalism works fine.
We're all essentially the same, want essentially the same things and need the same things as well: wealth, health, peace, safety, love, et al. – that's the common foundation to build on. Britain is not a failed example of a multicultural society, but a very successful one. Too bad politicians do not feel that way, but figures compiled by the LSE Sociology department seem to show that most 'ethnic' residents of the UK feel right at home here:
http://blogs.lse.ac.uk/politicsandpolicy/files/2011/04/AM-Table3.jpg
The point here is that while government has conveniently given up on multiculturalism in the middle of a double dip-recession which will probably get far worse (socially and economically) before it gets better, blaming Labour for loose immigration policies and slowly moving towards the far-right, they either don't care to admit or simply don't realise how multiculturalism is actually organic – a natural process of life.
Let us have a look at another table, showing how people feel they are treated by 15 authorities and public services among which are health, education, police and local government:
http://blogs.lse.ac.uk/politicsandpolicy/files/2011/04/AM-Table4.jpg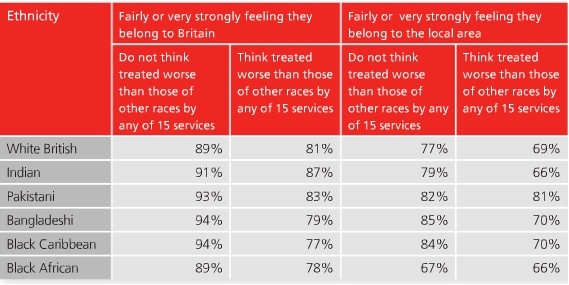 As the Citizenship Survey results show it above, people who feel discriminated against by the authorities are much more likely to not feel they belong in this country, which means they are far less likely to 'integrate'. Extrapolating, we can interpret this data as proof that it is not multiculturalism that has failed, but politics – and miserably at that – to understand the social mechanisms behind a multicultural society and apply them to mutual benefit.
Therefore it might be wrongfully applied government policy that prevents integration of some people, and it may be that politicians ought to walk and talk more often to the people in the street before drawing bombastic conclusions and misconstruing the views and mentalities of entire communities. It might be that multiculturalism will always be there and officials need to better analyse it and harmonise their policies accordingly.
Here and Now 365 operates in a free and highly competitive market and therefore has no choice but to understand and adapt to certain realities, or else we'd be out of business. Fortunately we take great pleasure in our work and after years of media communications to various target groups we do feel a part of all communities in London, so it's fair to say multiculturalism works just fine for us.
Sources:
http://blogs.lse.ac.uk/politicsandpolicy/2011/04/14/multiculturalism-immigration-support-white-population/
http://www.bbc.co.uk/news/uk-politics-12371994
http://www.independent.co.uk/news/uk/politics/london-2012-pm-praises-londons-diversity-at-munich-memorial-8015286.html
Here and Now 365 has always prided itself for promoting multiculturalism and celebrating the ethnic diversity of the UK.